Discover SABOT and the many benefits of joining
There are many benefits offered by the South Akron Board of Trade to all member businesses.

ProMedica
Cut costs on your worker's and unemployment compensation premiums with our worker's compensation group rating program. 

Anthem
Keep your employees happy and healthy with health insurance discounts for all board members' businesses. There is a variety of insurances available; life, health, accident, and many more.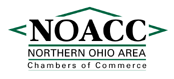 NOACC
Members of any Akron Board of Trade are entitled to the benefits provided by the Northern Ohio Area Chambers of Commerce.